ANNOUNCEMENTS

1. PLEASE CALIBRATE YOUR MONITOR!
In order to get the most out of the illustrations in this book
—
and in order to make sure that others see

your

photos the way

you

see them on

your

computer
—
you need to make sure your monitor is properly calibrated. The calibration key below provides a quick way to assess your monitor's calibration. If any of the gray bars have a red/green/blue color cast, or if any two bars appear indistinct (particularly bars #1 and #2), then you need to calibrate your monitor. Section 14.1.2 will tell you how.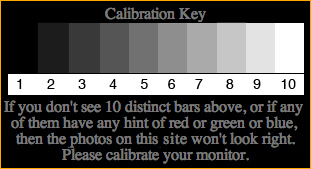 2. CURRENT STATS
The web edition is currently at 16 chapters, comprising 97 sections and 266,588 words, with 662 illustrations. When printed in 12-point font it comes to 926 pages. Monthly page views for 2010 are shown below. The 2011 stats continue this upward trend. Monthly page views in 2011 for the table of contents alone were around 3000.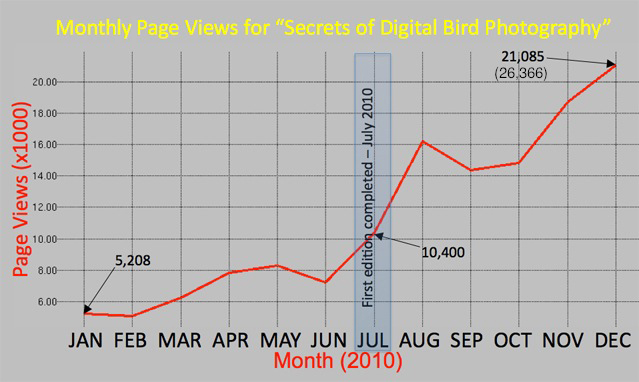 3. PRINT EDITION
Many readers have asked—and continue to ask—when a print edition will become available. Unfortunately, due to the extreme length (900+ pages), publishing this work as a full-color print edition is simply not economically feasible. The author is familiar with self-publishing options such as Lulu and Blurb (which have their own shortcomings, particularly in cost and printing quality). The advantage of web publishing over print, however, is that the web version can be updated and corrected as needed. For that reason, the author has opted not to produce a print edition.


4. E-BOOK
In response to the many requests for an e-book version, the author is currently preparing a PDF version which hopefully will be available very soon.
5. DONATIONS
If you find this resource useful, please consider making a donation to the author to help defray the cost of hosting this site. You can now donate via PayPal. You can also mail a check. See the "donations" link in the sidebar at the left (you may need to scroll up this page to see the sidebar).


---
You can proceed to the table of contents by clicking the link below: